LIFT 2020 Virtual Conference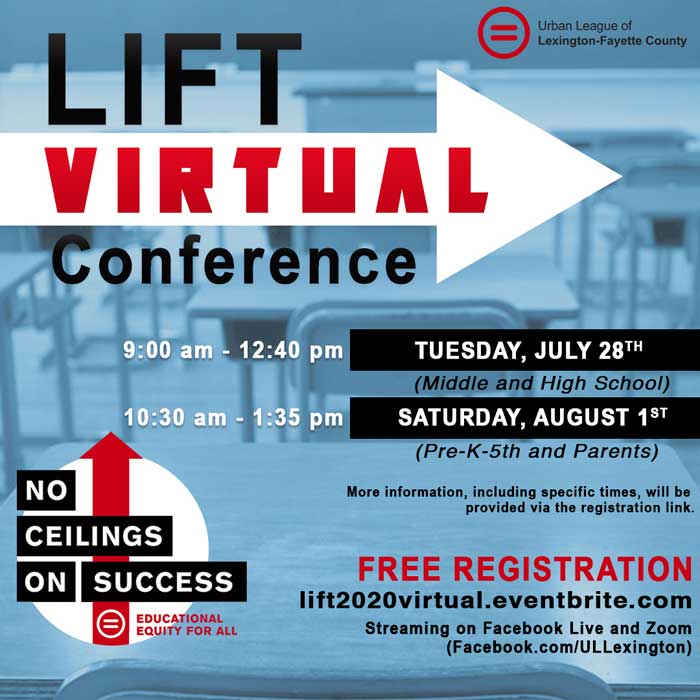 GENERAL DESCRIPTION
LIFT is a college and career readiness conference for pre-K through 12-grade students and their parents. The conference was created to assist first-generation college students in understanding what they needed to be successful after high school graduation. We provide tips, tools, and other support to help parents and students understand what life will look like after a student hears their name called at graduation. Over the years, the conference has grown to have an average of 450 participants. A host of colleges are onsite to answer questions about enrollment and specific programs. And we have a variety of career fields onsite to share what it's like to work in their industry. A great time is had by all!
LINK TO REGISTER: https://www.eventbrite.com/e/lift-2020-a-virtual-conference-registration-112116902674
LIFT 2020 DESCRIPTION
The Urban League's college and career readiness conference is going virtual. Join us on Tuesday, July 28th and Saturday, August 1!
Middle School Students
Join us between 9:00 am and 10:30 am July 28th to find out why It's All About You!!
High School Students
Jump start your morning with us July 28th at 11:00 am to see who won $1,000, find out Who's in the Driver's Seat, and how you can Live Like A Boss. Sessions will conclude at 12:30 pm.
Pre-K through 5th Grade Students
Our friends at the Explorium will be joining us this year! Pre-K through 2nd grade students will create their very own rainbow (with supervision) on August 1 at 10:30 am. Older students in 3rd – 5th grade will make balloon rockets! You must register to get all the supplies you need (FREE!). Supplies are limited!
Parents/Caregivers
We didn't forget about you. Login Saturday, August 1 at 12:00 pm to Support Student Success and be prepared for the school year ahead. Sessions will conclude at 1:35 pm.
Questions: Contact Annissa M. Franklin, MS at Annissa@ullexfay.org or call 859-233-1561.
College and Career Resources – Click here for Resources.